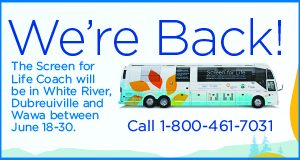 May 22, 2017 @ 08:39
The Screen for Life Coach is on the road again, returning to a full travel season in 2017. The mobile health screening service, that provides breast, cervical and colon cancer screening, visits more than 70 different locations throughout the year.
"We are excited to get back on the road for a full travel season this year," said Julia Bailey, Mobile Coach Lead at the Thunder Bay Regional Health Sciences Centre (TBRHSC). "Our clients can expect to receive high-quality health care services in locations from Minaki to Chapleau and everywhere in between, including many Indigenous communities too."
One thing that is different about the Screen for Life Coach is its new appearance. "Now that the Coach is offering men fecal occult blood test (FOBT) kits for colon cancer screening it is important for the look of the service to appeal to everyone who can access our services, no matter what gender, race or age they are" explained Bailey. The new design features the familiar landscape of Northern Ontario that all residents identify with.
The Coach increases access to important cancer screening services to help prevent cancer deaths from breast, cervical and colon cancers. In Northwestern Ontario, screening rates need to improve. The Ontario Cancer Screening Performance Report showed that only 62.6 percent of women are up-to-date with breast cancer screening, 60.5 percent are up-to-date on their cervical cancer screening and 44 percent of adults, between the ages of 50 and 74 years, are overdue for colon cancer screening.
"There is certainly room to improve our cancer screening rates," said Tarja Heiskanen, Manager of Screening and Assessment Services at TBRHSC. "Regular cancer screening can detect cancer in its early stages, when it's less likely to have spread and easier to treat. We strongly encourage men and women to get screened." The Screen for Life Coach makes it easier for people in Northwestern Ontario to participate.
According to Ontario's cancer screening guidelines, women, who are between the ages of 50 and 74 years, should have a breast cancer screening mammogram every 2 years. Women between the ages of 21 and 69 years, who have ever been sexually active, should have a Pap test to screen for cervical cancer every 3 years. Men and women, between the ages of 50 and 74 years who have no first-degree family history of colon cancer, should complete a FOBT kit every 2 years. All of these cancer screening tests are provided by the Screen for Life Coach.
Breast cancer screening mammograms are available at Riverside Health Care or the Screen for Life Coach. Women can book their appointment at Riverside Health Care by calling (807) 274-4808. A doctor's referral is not required.
The Coach will be in White River, Dubreuiville and Wawa this summer:
White River – Located at the Medical Clinic from June 18-20.
Dubreuilville – Located at the Arena from June 20-21.
Wawa – Located at the Michipicoten Memorial Community Centre from June 22-30.
Men and women can book their cancer screening appointment on the Screen for Life Coach today by calling 1-800-461-7031 or (807) 684-7777. To see the complete travel season schedule, visit www.tbrhsc.net/screenforlife or follow us on Facebook by searching for 'Screen for Life Coach Northwest'.
The Screen for Life Coach returns to Wawa, White River, and Dubreuilville this summer, with screening dates in Wawa from June 22-30, White River from June 18-20 and Dubreuiville from June 20-21. This year, the mobile health screening service has a new look and is also offering colon cancer screening fecal occult blood test (FOBT) kits to men. For more information or to book your appointment, call 1-800-461-7031.
By Sara Chow, Thunder Bay Regional Health Sciences Centre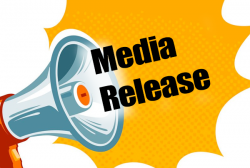 Latest posts by This Media Release
(see all)