Number of players – 73
1st in 1st Flight – Toni Rutland, Barb Leschishin, Luan Buckell – 38
2nd in 1st Flight – Lise Noel, Gerry Rose – 39
3rd in 1st Flight – Valerie Levesque, Josee Legault – 40
1st in 2nd Flight – Marcelle Terris, Beth Vachon, Nicole Chapman – 43
2nd in 2nd Flight –  Norma Kauk, Louise Moran, Sue Kirby – 43
3rd in 2nd Flight – Johanna Rowe, Lori Bordeau, Amanda Huff – 44
1st in 3rd Flight –  Danette Mathias, Judy Zagar, Christina Port – 45
2nd in 3rd Flight – Chrissy McRae, Cathy Cyr, Ida Vernier – 45
3rd in 3rd Flight –  Silvana Dereski, Jenelle McAuley, Anna Klockars – 46
1st in 4th Flight – Cheri Lowe, Chrystal Morden, Mel Farmington – 49
2nd in 4th Flight – Wendy Bonitzke, Karen Tait, Kathy Turyk – 49
3rd in 4th Flight – Jennifer McLaughlin, Kathy Miller, Laurie Oliver – 49
1st in 5th Flight – Edith Levesque, Nat Lacroix – 51
2nd in 5th Flight – Jenny Weatherbee, Doreen Sabourin, Betty Robertson – 53
3rd in 5th Flight – Huguette Szekely, Aline Haman, Kaireen Morrison – 53
Special Event Winners
Hole #1 – Northern Lights Ford – Golf Hat – Longest Putt – Linda Ilola
Hole #2 – Subway – 2 Sub Coupons -Longest Drive (59 and under) – Marcie De La Franier
North of 17 – Lunch Coupon – Longest Putt – Nicole Chapman
Hole #3 – J. Provost Contracting – $20.00 Cash Closest to the pin – Lise Noel
Hole #4 – Michipicoten First Nation – Special Golf Item – Longest Drive (60 and over) – Jennifer McLaughlin
Canadian Tire $25.00 gift card – Longest Putt – Lise Noel
Hole #5 – Wesdome Gold Mines – $15.00 cash – Closest to Pin – 3rd shot – Tammy Oliver
Hole #6 – Wawa Motor Inn – $15.00 cash – Closest to Pin – 3rd shot – Lise Noel
Hole #7 – Millette General Contractors – $15.00 cash – Closest to the pin – Toni Rutland
Hole #8 – Fenlon's Pharmacy – $15.00 cash – Longest Putt – Kaireen Morrison
North of 17 – Large Pizza – Closest to pizza box – Danette Mathias
Hole #9 – Home Building Centre – $20.00 voucher Closest to the pin – 3rd shot – Louise Moran
Wawa Rent-All & Repair – Logo Prize – Longest Putt –  Paula Valois
Other Prizes/Draws
Michipicoten Golf Club – Bucket of Balls – Most Honest Golfers – Marsha & Leslie
Michipicoten Golf Club – $10.00 Voucher – Cathy Cyr
Lise's Cabinetry/Carpentry – Mini golf bag – Kathy Miller
Ladies Night Draw – $15.00 cash – Laurie Oliver
20 Foot Putt ($90.00) 3 Putters – Tammy Oliver, Jennifer McLaughlin, Ashley Omolida – No Winner
The sign up sheet is posted for the Ladies Closing Tournament which will be held on Saturday September 8.
Thank you to our sponsors for the 2018 season of Ladies Night, we appreciate your generous support!
Please remember to book your tee time on Friday mornings by calling the Michipicoten Golf Club at 856-7409.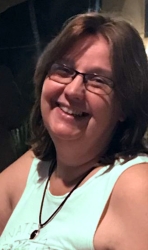 Latest posts by Brenda Stockton
(see all)