May 2, 2018 @ 08:37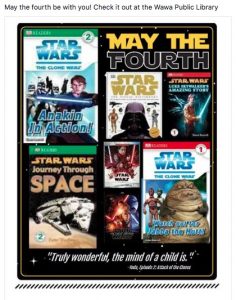 New Books – New books on the seven day fiction shelf this week: "Twenty-One Days" by Anne Perry, "The Good Pilot Peter Woodhouse" by Alexander McCall Smith, and "Shoot First" by Stuart Woods.
After school programs – On Tuesday, we have Craft Club, Wednesday is Clay Club, Thursday is Drawing/Beading Club, and Friday is Game Day.  All clubs are 3:30-4:30 for ages 4-12 and anyone under the age of 6 must be accompanied by an adult.  Come on down to the Wawa Public Library and participate in our after school programs.
Drop Box – Our drop box is in place for your convenience.   You may deposit your returns only in the drop box when the library is closed.
Staff Picks for the Month of April – "Shadow Play" by Iris Johansen, "The Liar" by Nora Roberts, "The Secret Life of CeeCee Wilkes" by Diane Chamberlain, and "Random Passage" by Bernice Morgan.
"The Liar" – Shelby Foxworth lost her husband.  Then she lost her illusions.
The man who took her from Tennessee to the most exclusive suburb of Philadelphia, fathered her child and bathed her in luxury, was not what he seemed.  As Shelby is shocked to learn after Richard Foxworth drowns in the Atlantic Ocean, he's left her in crippling debt.  He had a vasectomy without telling her.  He was an adulterer and liar, as fake as the diamond he put on her finger.  And when she tracks down his safe-deposit box, she finds cash, a gun—and multiple IDs with Richard's picture and other men's names.
The man she loved isn't just dead.  He never really existed.
Selling off what she can—and fending off questions from a private investigator who shows up at her door—Shelby takes her three-year-old daughter and heads down south to find comfort in her hometown and her granny's beauty salon.  She also finds the promise of something more than comfort in Griffin Lott, a successful contractor with a cute Yankee accent. (Book Jacket)
Our hours are Monday-Friday (inclusive) 11:00a.m. – 7:00p.m., and Saturday 11:00a.m. – 4:00p.m.  The library will be closed Sundays and all holidays.  Come on down to the library!  We look forward to seeing you!
Come on in and check out our great selection of books, magazines, DVD's, Blu-rays, Audiobooks, French books, and more.  And don't forget our awesome Children's collection!
The Wawa Public Library also has many other services available such as photocopying, faxing, laminating, printing, and conversion of VHS to DVD.
Telephone – 705-856-2244 ext 290 for the circulation desk or ext 291 to reach the librarian's office, or email us at [email protected]
Public Access Computers, Ipads & WiFi – Free WiFi is available at the library.  We have 4 public computers as well as 3 I-pads available for public use.  Please inquire at the circulation desk.
Check out the Wawa History page as well as The Wawa Public Library on Facebook.   Our Wawa History website is www.wawahistory.wawa.cc
Remember – library membership is FREE to residents of the Municipality of Wawa and contracting communities.
Latest posts by Wawa Public Library
(see all)