Mar 28, 2018 @ 08:17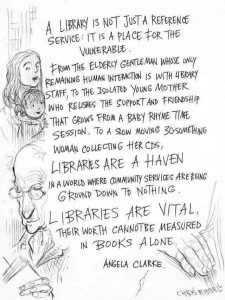 New & Improved Hours at the Wawa Public Library  – Our hours are now Monday-Friday (inclusive) 11:00a.m. – 7:00p.m., and Saturday 11:00a.m. – 4:00p.m.  The library will be closed Sundays and all holidays.  Come on down to the library!  We look forward to seeing you!
New Books –  New books on the seven-day fiction shelf this week: "The Light-Keeper's Daughters" by Jean E. Pendziwol,  "Fall from Grace" by Danielle Steel, and "The Rising Sea" by Clive Cussler.
New on the seven-day non-fiction shelf:  "I'll Be Damned" by Eric Braeden.
After school programs – On Tuesday, we have Craft Club, Wednesday is Clay Club, Thursday is Drawing/Beading Club, and Friday is Game Day.  All clubs are 3:30-4:30 for ages 4-12 and anyone under the age of 6 must be accompanied by an adult.  Come on down to the Wawa Public Library and participate in our after-school programs.
Drop Box – Our drop box is in place for your convenience.   You may deposit your returns only in the drop box when the library is closed.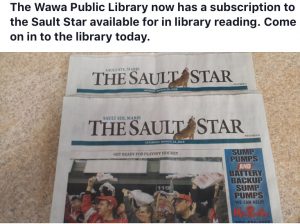 Staff Picks for the Month of March are: "The Illegal" by Lawrence Hill, "Snow Falling on Cedars" by David Guterson, and a Young Adult pick "The Fault in our Stars" by John Green.
'Snow Falling on Cedars' – San Piedro Island, north of Puget Sound, is a place so isolated that no one who lives there can afford to make enemies.  But in 1954 a local fisherman is found suspiciously drowned, and a Japanese American named Kabuo Miyamoto is charged with his murder.
In the course of the ensuing trial, it becomes clear that what is at stake is more than one man's guilt.  For on San Piedro, memory grows as thickly as cedar trees and the fields of ripe strawberries-memories of a charmed love affair between a white boy and the Japanese girl who grew up to become Kabuo's wife; memories of land desired, paid for, and lost.  Above all, San Piedro is haunted by the memory of what happened to its Japanese residents during World War II, when an entire community was sent into exile while its neighbors watched.  Gripping, tragic, and densely atmospheric, Snow Falling on Cedars is a masterpiece of suspense-but one that leaves us shaken and changed.  (Book Jacket)
Come on in and check out our great selection of books, magazines, DVD's, Blu-rays, Audiobooks, French books, and more.  And don't forget our awesome Children's collection!
The Wawa Public Library also has many other services available such as photocopying, faxing, laminating, printing, and conversion of VHS to DVD.
Public Access Computers, Ipads & WiFi – Free WiFi is available at the library.  We have 4 public computers as well as 3 I-pads available for public use.  Please inquire at the circulation desk.
Board Meetings – The Wawa Public Library Board meetings are held the third Monday of each month at 6:30 p.m. at the Municipal Council Chambers.   The next meeting will be held on Monday, April 16, 2018 at 6:30 p.m. in the Council Chambers of the Municipality.   Everyone is welcome!
Check out the Wawa History page as well as The Wawa Public Library on Facebook.   Our Wawa History website is www.wawahistory.wawa.cc
Telephone – 705-856-2244 ext 290 for the circulation desk or ext 291 to reach the librarian's office, or email us at [email protected]
Remember – library membership is FREE to residents of the Municipality of Wawa and contracting communities.
Latest posts by Wawa Public Library
(see all)