Jun 28, 2017 @ 08:52
New books – New on the seven day fiction shelf this week: "No middle name" by Lee Child, "The forever summer" by Jamie Brenner, "Dragon teeth" by Michael Crichton, and "You will pay" by Lisa Jackson.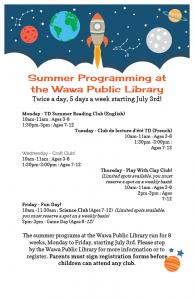 Afterschool Programs – Afterschool programs are Tuesday through Friday from 3:30 p.m. – 4:30 p.m. Come on down to the Wawa Public Library and join in the afterschool fun!
TD Summer Reading Club – The TD Summer Reading Club starts Monday, July 3 with all kinds of fun in store! Posters will be displayed in the schools and daycares. Pamphlets will also be given to each student to take home within the next 2 weeks. You can call the library at 856-2244 ext 290 for more information. Hope to see you at the Library this summer!
Used Battery Collection – You can drop off old batteries at the Wawa Public Library. We are a collection site for single use batteries.
NEW AT THE LIBRARY! Computer Cartridge Recycling
We are now a collection site for used computer cartridges & toners. Please drop them off at the circulation desk!
The library is closed Sundays, Mondays and all holidays. We are open Tuesday through Thursday from 11:30 – 8:00 pm; Friday 11:30 – 5:00 pm, and Saturday from noon until 2 pm.
Telephone – 705-856-2244 ext 290 for the circulation desk or ext 291 to reach the librarian's office, or email us at mtpl@wawa.cc
Public Access Computers, Ipads & WiFi – WiFi is available at the library – please register at the circulation desk if you are accessing our library Wifi. We need to track the usage for statistical purposes. Thank you! We have 2 public computers as well as 3 I-pads available for public use. Please inquire at the circulation desk.
Board Meetings – The Wawa Public Library Board meetings are held the third Monday of each month at 6:30p.m. in the Library. There will be no meetings for the months of July and August. The next meeting will be held on September 18 at 6:30p.m. Everyone is welcome!
Check out the Wawa History page as well as The Wawa Public Library on Facebook. Our Wawa History website is www.wawahistory.wawa.cc
Remember – library membership is FREE to residents of the Municipality of Wawa and contracting communities.